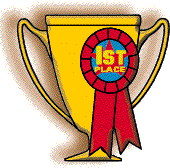 Hello, all you lovely people. Did any of you hear my screams? lol. Don't panic, Mister man wasn't throwing boiled eggs at me... No sireee, I was just elated to receive a first place award!. Yeeehaa, I have never, ever had anything like that before so I was a bit pleased.
Thank You so much Val and your fellow judge's for my Sentence Of The Week Award. I have displayed It proudly. I finished work last night and headed over to my parents' house armed with my pink scrabble and wee treasure. We were sleeping over as today, is my dad's birthday.
Happy Birthday Dad.

We sat up drinking tea, eating goodies and enjoying our favourite game. It was magic. We also watched a movie of wee treasure at christmas time a few years ago and a dancing one of her, and her cousin, shaking their stuff! lol. I am so pleased I captured those memories when I did. My parents adored them.
My dad Is 77 years old today and still puts everyone to shame with the amount of things he does! Fitting the kitchen and bathroom and hanging door's etc In his house! A lot of the family arrived to wish him well and he looked really pleased to see them all.
I'm not long home and have just sat down and It's teatime. I will sleep well tonight! lol. I will have to get comfy here and start whipping round all your journals now to catch up. So get the kettle on! lol I hope you are all well and having a wonderful weekend so far. ;-)
Take care. Back Soon. xx