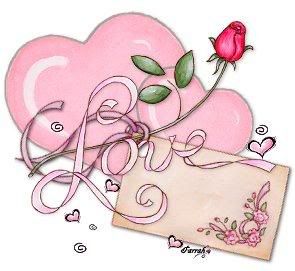 Happy Valentine's Day everybody. I know It's very late but I still wanted to give you all some love! lol. I woke at the usual time 6.45am with the wonderfully loud ringing phone tone for my alarm! works every time! lol. I got a nice kiss, said good morning and Happy Valentine's Day, then crept out the bedroom and had the craziest Idea to make Mister Man a nice breakfast In bed. Hmmm knowing full well, he doesn't ever eat breakfast, I thought somehow today would be different and would be appreciated so much!
I got everything on the tray, the plate, cup, small vase with some flowers from my last week's bunch! lol and headed through to the room, only to be told In a very sleepy voice, "Aww Darling I can't eat that just now", "I will be sick", "If you put It In the kitchen, I will heat It up In the microwave later," to which I said "Okay love, no problem" Awww. I know he doesn't eat at that time of day, but It didn't stop me smiling on my way through to the kitchen with the tray, as I wondered how on earth he was going to manage putting his boiled eggs and soldiers In the microwave!!! lol That made my day! Wicked, I know but ever so funny and Ironic.
Bless his cotton socks though, I got a lovely bunch of red carnations and 2 cards, One was a wee joke one and one was a real beautiful and heartwarming one. Even my wee treasure got a card!! Hmm, wonder who that was of? Lucky lady.
I Hope you have all had a fabulous day.Sending Loads of Love to all you wonderful J-Landers. Take care, Back soon. xx