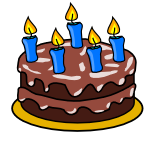 Today has been the quietest birthday I've ever had. Got a lovely big chocolate cake and some nice goodies and cards which were really appreciated.
On the down side, I've just not been able to enjoy it. It's been a rather awful week. I went back to the doc's and got more tests done yesterday. Weight has ballooned to a scary degree. I told the doc that I have thrown the towel in, given up, can't take it any more. I explained I was struggling to breathe let alone walk! Not me at all. This bad boy liver of mine needs beaten with a stick! lol. I have to laugh cos my emotions are all over the place and I cry constantly for no reason.
The doc was good. There had been a problem with my thyroid still being way too underactive, so he has upped the dose. He is a good man and I think he understood that I was at the end of my tether. To have gone up 4 and a half stone was a shock in itself, It's just so desperately uncomfortable!
I was given more tablets to take, making that a total of 4 a day from now on! Hmmm. On a positive note I was receiving a couple of birthday calls earlier when one turned out to be a lady from the hospital!!! and I am booked in for this coming Tuesday
.
Funny to be having a cup of cocoa to celebrate my day with!! lol.and of course another slice of cake! lol. Sorry for being a wee whingy pants but I thought I should "update". I have enjoyed going round the journals leaving comments and will continue to do so, even If I don't post. I will probably look for something funny to put on again until things start getting better. I hope you are all having a great weekend so far.
Take Care Back Soon xx

Tags: Life Is A Rollercoaster