Hello Everyone.
I really enjoyed my Easter weekend. The whole weekend was a very chilled out occassion. Plenty of chocolate eaten and some good movies watched. The Roast on the Sunday was perfect, It just finished of the day nicely. On the Monday I decided to wait until mister man had laid down on the couch for a nap and then I set to work.
I smuggled the paint, brushes and ladders Into the bathroom and got started changing the walls to a lovely fresh white! lol. Why did I do this quietly? I could just picture the conversation: "Don't go starting that, you won't get It finished" or "Don't do that today, we will do It soon" lol Yeah right!. I just had to crack on and get a good whack done before he woke up, then ask him to do all the top bits as I can't reach!!! lol women! What are we like?
I got on fine until I heard raised voices from the livingroom. I laid everything down, went through asking what was going on and In a rather sarcastic voice heard the words "What are you doing through there? Cooking?" I was absolutely covered In white paint! I rolled my eyes and headed back to the bathroom.lol Oh Men! What are they like?
Had a moment In the supermarket tonight. It was a very familiar moment Indeed! lol. It took me back to one of my earlier entries: Going Blonde This time I was alone which was good! and, I was staring at a different colour of hair dye. A very bright Red one!!! I always follow this pattern of needing change, so the obvious easy answer Is to alter my hair. Always black or dark brown and on special occassions of stress we attempt blonde! lol
I will, of course let you all know the outcome tomorrow. I have had withdrawals this week from The Weekly Sentence. At least If my hair turns out to be a complete disaster, I still have Val to give me a new set of 6 letters to cheer me up!! lol ;-) Take Care, Back Soon. xx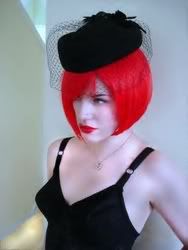 P.S. I got the bathroom finished with a little assistance on the top bits!! ;-) lol x